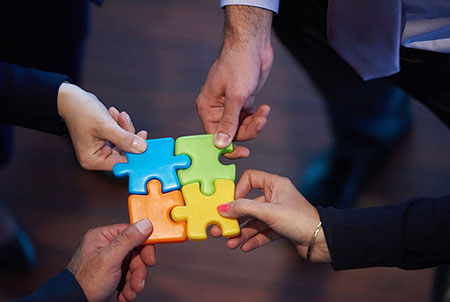 COOPERATION WITH LEADING GLOBAL LAW FIRMS
We have an established relationship with some leading global law firms seeking local legal counsel in Armenia. This cooperation brings together our knowledge of local regulations and practices with leading global law firms' international reach and worldwide reputation for advising both national and multinational clients operating in Armenian market and/or seeking legal advice on Armenian law matters.
This cooperation and exchange of expertise is very valuable to us and helps us to constantly be in compliance with global standards of client commitment and service quality.
CONTRIBUTION TO LEGAL RESEARCH PROJECTS
Our founder, Mr. Suren Petrosyan, has systematically participated and contributed, on a pro bono basis, to various global legal research projects conducted by international organizations aimed to compare legal regulations in countries across the world with objective to stimulate reforms leading to a more business-conducive, secure and transparent environment for foreign investors.
During the past few years, Mr. Petrosyan has contributed to the World Bank Group's Doing Business projects, such as "Doing Business 2017: Equal Opportunity for All", "Doing Business 2018: Reforming to Create Jobs" and "Doing Business 2019: Training for Reform". Mr. Petrosyan's contribution to these projects has been acknowledged by World Bank Group's Certificates of Appreciations.
PRO BONO
We are committed to spending some part of our time annually on pro bono work with the same enthusiasm and energy as work for our commercial clients. Our pro bono work includes advising local and international charitable organizations, orphanages and NGOs on various legal issues, protecting their rights and legitimate interests in Armenia.