We Will Reply to Your Message Promptly
Commitment to Excellence. We deliver high quality legal services to meet our clients' specific needs and reach the best outcome. High level of performance, relentless pursuit of results and constant improvement of our skills are the key elements of our brand.
Understanding our client's business. We immerse ourselves in each of our clients' problems, their culture, needs and commercial objectives, trying to become an integral part of client's team. This knowledge helps us to be effective when providing legal advice and services to each of them.
Commitment to business ethics and integrity. Our firm's reputation is built on business ethics and integrity. Our clients rely on our honesty in everything we do, and we are dedicated to maintaining our clients' trust. Detecting and avoiding conflicts of interest, maintaining the confidentiality of client's information, acting in compliance with the other rules and principles of legal profession constitute the cornerstones of our relationships with clients.
Responsiveness and Promptness. It's crucial for us how quickly the client's phone call or email is returned, how often the client is updated on the progress of a case. Small things matter. Client service is our firm's culture.
Cost-effectiveness. We are willing to negotiate and agree flexible alternative fee structures (fixed fee, capped fee, success fee etc.) with our clients depending on the scope of work, its complexity and urgency. We always meet our clients' expectations on predictability of their legal costs.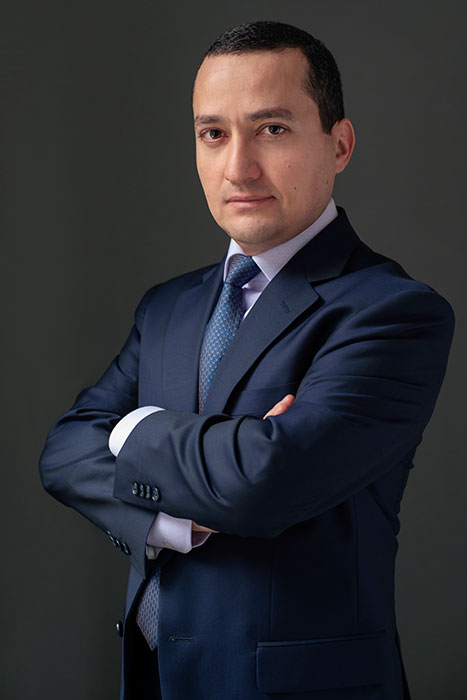 OUR CLIENTS RELY ON:
● Our extensive experience and knowledge of Armenian business and commercial law
● Our commitment to the highest standards of professionalism, business ethics and integrity
● Our strategic and innovative thinking, our ability to handle tight deadlines
● Our ability to negotiate and communicate effectively with our clients' business counterparties and local authorities
Mr. Suren Petrosyan is the founder and Managing Partner of SP Consulting LLC. He has an extensive professional experience and knowledge of Armenian Civil and Commercial Law and practices law since 1996.
Mr. Suren Petrosyan is member of the bar of the Republic of Armenia.
HIGHLY EFFECTIVE LEGAL ADVICE

AND SUPPORT TO OUR CLIENTS
GEOGRAPHY OF OUR CLIENTS
Our clients include mid-size and large foreign companies based in Europe, USA, Canada, CIS, Middle East etc., among them many major international brands and corporations and their Armenian subsidiaries, representing a broad spectrum of industries.