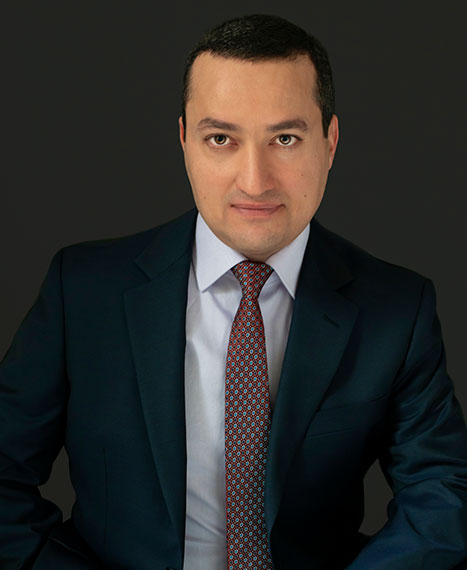 Suren Petrosyan
Founder and Managing Partner
Mr. Suren Petrosyan is the founder and Managing Partner of SP Consulting LLC. He has an extensive professional experience and knowledge of Armenian Civil and Commercial Law and practices law since 1996.
Professional Experience
SP Consulting LLC has been founded by Mr. Suren Petrosyan in 2015. Mr. Suren Petrosyan has been practicing law since 1996. He has held various senior positions at the Central Bank of Armenia (1996), the Ministry of Finance and Economy (1997-1998) and the Armenian President's Office (1998-2001). As the legal adviser to those state entities, Mr. Petrosyan has been involved in drafting of important legislation, such as tax laws, banking laws and Armenian Customs Code (adopted in 2000). He has participated in debates related to the adoption of the Armenian Civil Code as the Government's Representative at the National Assembly in 1997-1998.
In 2001 Mr. Petrosyan has moved to the private sector. During his tenure with ILC LLC (Armenian law firm) from 2001 to March 2015, Mr. Petrosyan has participated in the negotiation and structuring of some of the largest privatization and investment projects in Armenia (such as the acquisition of 100% shares in the "Electric Networks of Armenia" CJSC by a British-registered company, the acquisition of "ArmenTel" CJSC shares by a Russian telecommunications company, etc.), has been in charge of dozens of litigation cases, with an impressive success record. As the lead attorney on Armenian law matters, Mr. Petrosyan has represented clients in various sectors of businesses and has provided legal advice to international reputable companies and clients, such as Overseas Private Investments Corporation (OPIC), International Finance Corporation (IFC), European Bank of Reconstruction and Development (EBRD), NASDAQ OMX, Raiffeisenbank a.s., SEF/World Vision, Midland Resources Holding Limited, GeoProMining Gold LLC, Newmont Ventures Limited, Fortune Oil PLC, Apple Inc., Google Inc, Twitter Inc., VMware International Marketing Limited, Synopsys, Inc., Wyndham Hotel Group/Ramada, Hyatt International, Tufenkian Holdings LLC, DreamWorks Animation, Disney Enterprises Inc., Ralph Lauren, Burberry, Calvin Klein, VimpelCom OJSC, Glaxosmithkline, Procter & Gamble, British Broadcasting Corporation (BBC), RFE/RL, Inc., Vatican City State, US Embassy in Armenia, UK Embassy in Armenia, Lufthanza, AerCap, Etihad Airways P.J.S.C, Baker & McKenzie, Allen & Overy, Clifford Chance, DLA Piper, Squire Patton Boggs, PricewaterhouseCoopers, Ernst & Young, KPMG etc.
Mr. Petrosyan has obtained his PhD in Law from Yerevan State University in 2001. He is fluent in Armenian, English, Russian and French.
Mr. Petrosyan is member of the bar of the Republic of Armenia.
PROJECTS & CONTRIBUTIONS
0
Doing Business 2019: Training for Reform
World Bank Group
0
Doing Business 2018: Reforming to Create Jobs
World Bank Group
0
Doing Business 2017: Equal Opportunity for All
World Bank Group
0
EBRD Corporate Governance Assessment
0
World Bank Group's Investing Across Borders (IAB)
0
Tax, Fiscal and Customs Reforms Program of USAID
Testimonials
"I have been impressed by Mr. Petrosyan's dedication to his work and analytical skills. He is one of the finest attorneys I have had the pleasure to work with in Armenia. Without his assistance and research on Armenian Constitutional and legislative issues the drafting of a New Customs Code for Armenia would not have been possible. In a career working with hundreds of attorneys I have found few that meet his caliber."

Walter E. Hekala
Senior Customs Advisor
BARENTS GROUP LLC
"Mr. Suren Petrosyan helped us through a multi-year lawsuit with grace and wisdom. He has helped us since, when we have had questions or concerns. There is a saying that a person gives most truly when they give of themselves. I feel like that is true of him".

Natalie Bryant-Rizzieri
Founder & Executive Director
Friends of Warm Hearth, Inc.